Please note: The FAQ section addresses general questions most commonly asked to our GPM. All questions are answered by GPM's, who are graduate students and/or York alumni. It is highly recommended to follow up with the graduate/professional school(s) and/or professor(s) of interest that you are looking to apply to, or your faculty's academic advisor. You can also speak with a GPM who can address your questions. You can request to speak with a Graduate Peer Mentor here.
---
Graduate Peer Mentor Program Frequently Asked Questions
1. When should I start contacting a potential supervisor for graduate school?
It is good practice to start contacting potential supervisors at least one to two years before your planned graduation date. If you are committing anywhere from two to six years to a lab, it is important to do your homework thoroughly. You will need to meet up with the supervisor, assess his/her personality, explore the lab environment and speak with your potential lab mates. With more time, you may want to volunteer in the lab and assess the lab culture before making a commitment.
2. Which courses should I take? Is my current course selection appropriate?
It is good practice to taylor your degree/courses to your planned future career. Having some sense of what you would like to do in the future can help you choose the best courses. For example, a career in laboratory research can be facilitated by choosing courses designed to help you adopt analytical lab skills. On the other hand, if you are pursuing a career in health or medicine, coursework focusing on physiology and disease pathology may be more practical, for you. Most importantly, take courses that interest you! Undergrad courses can certainly help prepare you for your future career, and sometimes taking courses outside your discipline can introduce you to new areas that you otherwise may not have thought of!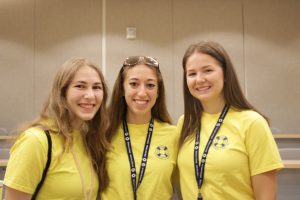 ---