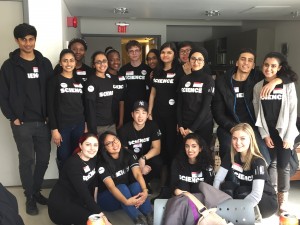 Who are we?
A student-based, Bethune College ambassadorship program that educates the external community about the Faculty of Science at York University.
The Student Ambassadors are passionate about their time at York, and willing to share it with others. As ambassadors we attend recruitment like Ontario University Fair to help educate prospective students on the benefits of attending York.  We are there to provide parents and students with answers to pressing questions and give them a student's perspective of life at York University.
What are we about?
Creating an open environment that facilitates communication between prospective students and York University Science programs
Providing information regarding the application process, various academic programs, and support services available at Bethune College and York University
Sharing personal experiences with prospective students and advocating the benefits of attending York University
How can I get involved?
The Student Ambassador Program has two opportunities to get involved, Junior and Senior Student Ambassador, allowing everyone the chance to be a Science ambassador.
Junior Student Ambassadors
This program is for students who would like to attend events and share their experiences. It is a great place to start, the junior program gives you the opportunity to build skills and get more involved in the SOS community.
Senior Student Ambassadors
This program is for students who would like to be more involved in the planning and running of events. The senior program will help you to build leadership skills, make connections, and contribute to the community.
If you would like to be a Student Ambassador, please contact the Student Ambassador Program Coordinator at bcsa@yorku.ca
---
Please like our Facebook Page (Bethune College Academic Community) to receive updates to major academic events/activities:

Please connect to our LinkedIn page to build your academic and/or professional network: