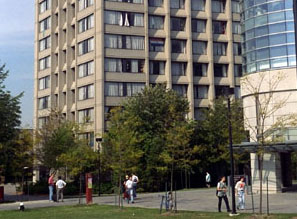 The Bethune Residence is the home for approximately 260 undergraduate students, the majority of them in first year. Our residence offers both traditional style (floors 7-14) and suite style (floors 2-6) accommodation. In the traditional floors the rooms are both single and double occupancy with shared kitchenettes, bathrooms and common rooms. The suite-style floors contain both 4 and 12-person suites, each with single and double bedrooms, a kitchen, bathroom and common room. Floor plans and a virtual tour are available here.
The residence is coed with the exception of the 5th floor (suite style) and the 10th floor (traditional style), which are female-only floors.
The Residence Life Coordinator is responsible for the whole residence and is assisted by dons, programmers, and night porters.
Residence space is guaranteed to all first-year students who meet the housing application deadline of June 1. First-year students occupy the double and single rooms on the traditional floors.
The residence is subdivided into houses, each overseen by a don:
| House | Floors | Don (2018-19) |
| --- | --- | --- |
| James Maxwell House | 1-4 | Josh |
| David Suzuki House | 5&6 | Erin Maura |
| Gabrielle Roy House | 7&8 | Sara |
| Emily Stowe House | 9&10 | Tiffany |
| Wendell MacLeod House | 11&12 | Avril |
| Margaret Lawrence House | 13&14 | Chris |
|  Don of Living Learning Opportunities | DLLO | Ranald |
More info about York's residences and residence life can be found here.
Note: The elevator only reaches the thirteenth floor.  You have to walk up to the fourteenth.
Move-In Day is Saturday September 1, 2018 for new students.