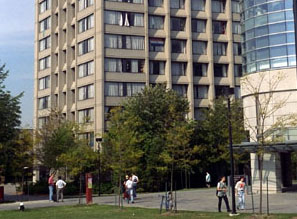 The Bethune Residence is the home for approximately 260 undergraduate students, the majority of them in first year. Our residence offers both traditional style (floors 7-14) and suite style (floors 2-6) accommodation. In the traditional floors the rooms are both single and double occupancy with shared kitchenettes, bathrooms and common rooms. The suite-style floors contain both 4 and 12-person suites, each with single and double bedrooms, a kitchen, bathroom and common room. Floor plans and a photos are available.
The floors are mixed gendered with two female only and one male only floors.
The Residence Life Coordinator is responsible for the whole residence and is assisted by dons, programmers, and night porters.
Residence space is guaranteed to all first-year students who meet the housing application deadline of June 1. First-year students occupy the double and single rooms on the traditional floors.
The residence is subdivided into houses, each overseen by a don:
| House | Floors | Don (2021-22) |
| --- | --- | --- |
| James Maxwell House | 1-4 | TBD |
| David Suzuki House | 5&6 | TBD |
| Gabrielle Roy House | 7&8 | TBD |
| Emily Stowe House | 9&10 | TBD |
| Wendell MacLeod House | 11&12 | TBD |
| Margaret Lawrence House | 13&14 | TBD |
|  Don of Living Learning Opportunities | DLLO | TBD |
More info about York's residences and residence life can be found here.
Note: The elevator only reaches the thirteenth floor.  You have to walk up to the fourteenth.
Move-In Day will be over a week, with individual time slots. Details will be available closer to September.